JEA: The following chapter is extracted from the book Grand Orient Freemasonry Unmasked as the Secret Power Behind Communism. It was written in 1882 by Monsignor George F. Dillon. I have condensed it a little and changed the name of the chapter for modern readers.
---

…by Monsignor George F. Dillon
The Illuminism of Lyons was destined soon to have a worldwide and ineradicable hold on the Masonry of the world by means of an adept far more able than Saint Martin or any of his associates.
This was Adam Weishaupt, a Professor of Canon Law at the University of Munich. I shall detain you a while to consider this remarkable individual who, more than any of the Atheists that have arisen in Masonry, has been the cause of the success of its agencies in controlling the fate of the world since his day.
Had Weishaupt not lived, Masonry may have ceased to be a power after the reaction consequent on the first French Revolution. He gave it a form and character which caused it to outlive that reaction, to energize it to the present day, and which will cause it to advance until its final conflict with Christianity must determine whether Christ or Satan shall reign on this earth to the end.
Voltaire's will to do God and man's injury was as strong as that of Weishaupt. His disciples, D'Alembert, Diderot, Damilaville, Condorcet, and the rest, were as fully determined as he was, to eradicate Christianity. But they desired in its stead a system with only a mitigated antipathy for the monarchy, and which might have tolerated for a long time such kings as Frederick of Prussia, and such Empresses as Catherine of Russia.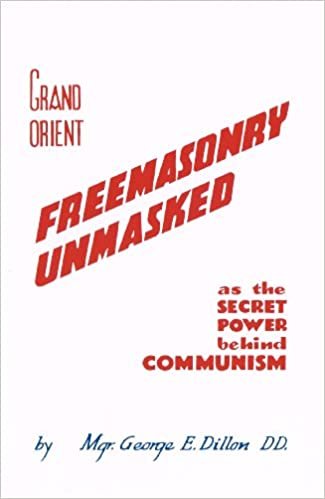 But the hatred for God and all forms of worship, and the determination to found a universal republic on the lines of Communism, was on the part of Weishaupt a settled sentiment.
Possessed of a rare power of organization, an education in law which made him a pre-eminent teacher in its highest faculty, extended knowledge of men and things, a command over himself, a repute for external morality, and finally, a position calculated to win able disciples, Weishaupt employed for fifty years after the death of Voltaire, his whole life and energies in the one work of perfecting secret associations to accomplish by deep deceit, and by force when that should be practical, the ruin of the existing order of religion, civilization, and government, in order to plant in its stead his own system of Atheism and Socialism.
He found contemporary Masonry well adapted for his ends. His object was to extend it as far as possible as a means of seducing men away from Christianity.
He well knew that Masonry and the Church were in mortal conflict and that the moment a man became a Mason, he, that instant, became excommunicated; he lost the grace of God; he passed into a state of hostility to the Church; he ceased to approach the Sacraments; he was constituted in a state of rebellion; he forfeited his liberty to unknown superiors; he took a dreadful oath—perhaps many—not to reveal the secrets then, or at any after time, to be committed to his keeping; and finally, he placed himself amongst men, all of whom were in his own position, and in whose society it was possible and easy for the astute disciples of Weishaupt to lead him farther on the road to ruin.

Captain Crypto Punish has been working in online media since 2004. He is a writer, music producer, life coach and investor.
DISCLOSURE: All content herein is owned by author exclusively.  Expressed opinions are NOT necessarily the views of CryptoVerseInvestors.com (CVI), authors, affiliates, advertisers, sponsors, partners or technicians. Some content may be satirical in nature. All images within are full responsibility of author and NOT CVI.